This blog will teach you various ways to identify Franchise Fraud or Franchise Scams in India.
Various categories of fraud happen in a franchise business that is comprised of misleading and falsified sales practices being tricked into inducing potential franchisees to buy or invest in new businesses.
Many sales practices can be used to misguide varied franchisees and are available in various methodologies.
False or misguided statements on predictive financial performances are common in the franchise sector.
Unless the franchisor provides detailed information with the FDD or Franchise Disclosure Document consisting of the required data, do not take any decision.
Under the law, it is punishable and unethical to state misleading information in the disclosure document.
The franchisor or franchise brokers may persuade you to invest your life savings in buying out a franchise, so check everything before paying even a single penny.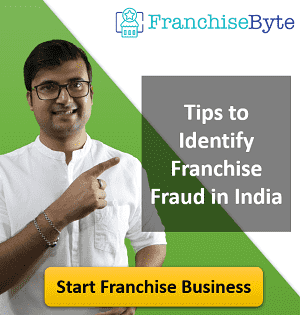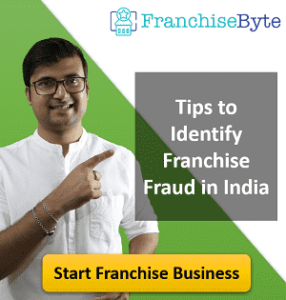 ---
How does a Franchise Fraud or Franchise Scam occur?
Any kind of illegal or misrepresentation sales practice for the franchisor can be termed franchise fraud. Franchise fraud can occur in many ways; let's have a look at some of them:
Misquoting the number of Franchisees
The franchisors, at times, are seen lying about the number of franchises they have established in the past years. They have been doing this for years to establish trust and credibility with new customers.
Misrepresentation of the Revenue made by Franchisees
One of the common strategies that franchise scammers have adopted for many years. New franchisors quote unrealistically high amounts to attract new investors towards them.
Product False Information
These franchisors may even lie about their products' quality and features, leading to customer issues and complaints for the franchise owners.
Price of establishing a New Franchise
The franchise tends to misquote the money required for building a new franchise. For example, there can be undisclosed amounts for setting up the new outlet, but the new franchise owner can be unaware of it.
---
---
Tips to Identify Franchise Fraud or Franchise Scam
When looking for information about the franchisor, you can see many red flags that cannot be ignored. Here are some of the signs that you should look for before signing up with any franchise:
No Online Presence
It is extremely important for brands to have an online presence these days. All the genuine brands do have their website & they do provide all relevant information through their website.
They also share details of their franchise partners, so that they don't look fraud in the eyes of new franchisees.
So, if a business owner doesn't have an online presence, then, you should not invest in such brands.
No Trademark
If you opt for a legitimate franchisor, it will have a trademarked brand name, logo, and company name. If you cannot find one, then it will be a problem.
No Physical Presence
The franchisor is not providing a physical address, or their headquarters address is never a good sign.
Showing a fancy website can surely mislead you, so do not get swayed by looking at the online franchise details.
Insufficient Details
The franchisors must provide financials and other details to their partners while buying new franchisees.
If they are reluctant to do so or provide false information to prove that they are a law-abiding company, then pause and make no hasty decision.
Online Reviews
One of the important steps while you are planning to buy a new brand franchise is always to look for what other franchise owners are looking for.
If they are giving bad reviews for the financial model or company, do not invest.
Complicated Agreement
If the contract you receive consists of many confusing clauses or is complicated to understand, seek advice from a lawyer to ensure that you will not sign up for a predatory agreement.
Royalty Fees
The franchisor does make money via royalty fees for the franchisees. If anyone is promising you a new franchisee, it is a low negligent or low royalty fee, and it will be an appointment of concern for you. Need to verify the business before investing.
Advertising Fees
For setting up any business in the market, advertising your products and services is very important, and franchisors usually take up this responsibility.
They mention the budget for the same to the franchisors beforehand. If you find the advertising budget too low, then a discussion is mandatory.
Persistent Franchisors
You will find the franchisors are rushing to sign the agreement and cheque for them.
Be cautious, as any authentic franchisor builds trust first, seeks out all queries, and then looks for a long-term partnership.
---
Articles you may also Like
How to Build a Successful Franchise Network?
Pros & Cons of Franchise Business
Role of Technology in Franchise Business
Franchise Business vs Independent Business
How to Start a Franchise Business in India?
How to Grow from 1 to 100 Franchise Outlets?
---
Steps to Protect yourself from Fake Franchise Brands
You should know what to look for and which information to seek will be the initial step for protecting yourself from franchise fraud.
The potential franchisees should be aware of the ways any franchisor should commit fraud, and you should also try to validate all the claims made by the franchisors.
Below we have listed the steps that can prevent you from falling prey to franchise fraud:
Research
Once you start looking for a venture to make a big-ticket investment, you should look for everything about the brand and franchisor.
It entails that comprehensive research should be performed for all publicly posted information and speak to all relevant stakeholders.
As a potential customer, you must reach out to all the details posted online about the franchisor. The details include when it was based, how they generated revenue, and the franchise model.
It will be a great idea to seek help from any franchise consultant to dig deep for you.
Go Offline
Online research you are already going through, now you should ensure that the brand you are going for should have a physical presence and is not merely a shell company showcasing a dummy website.
Try to visit the franchisor's office, ask your queries, and understand your responsibilities.
If you find anything fishy, like a franchisor pushing you to invest, visit all existing franchisees and speak to the owner yourself. These activities will allow you to verify your claims.
Attend Events and Meetings
Many franchises participate in and organize meetings and events for prospective buyers to attend and understand the business model, capital required, royalty fees and support level, and the desired training it is said to be provided.
Analyze the FDD and Contract
Knowing about the legitimacy of the franchisor in the initial step. Once you have decided about the business partner, never hand over the money.
It would help if you spent time analyzing the FDD (Franchise disclosure documents) and agreement. The respective agreement can have convoluted clauses to be used against in the future.
Look for help from a franchise lawyer or experienced business to clarify the doubts you must be having.
Franchisors must always disclose the financials and other important details for FDD to double-check before signing the agreement.
Verify all Details
On receiving the agreement and FDD, the potential franchisee has 14 days to verify the presented information in the document.
The new franchise seeker can use this time to review all the details, especially the one stated in fine print, and ensure that all the mentioned information is in order.
If the franchisor asks you to pass the period and go for the next step, then be cautious. If you have the slightest doubt about the franchisor, then stop right there.
Also, you can hire a third-party consultant or solution provider to confirm the company's genuineness.
---
Franchise Fraud or Fake Franchise – Conclusion
Once you have found that the franchisor is clearing all the required benchmarks, you can start your franchise. But you never got swayed by fake promises, ignoring the red flags, or skyrocketing returns.
To verify the franchise claims, perform your research and reach out to the right lawyers and consultants.
You must be sure that the agreement you are signing should be in order, and it is also quite important to verify all claims the franchisor makes.
---
---